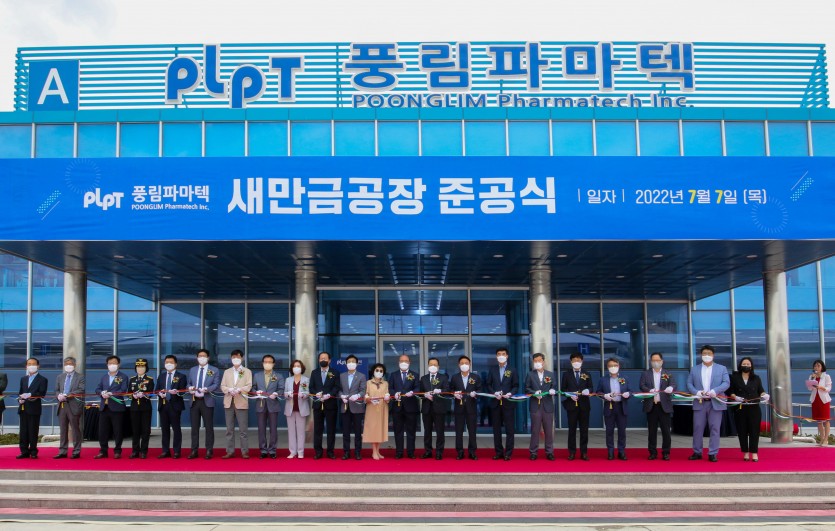 POONGLIM Pharmatech produces syringes and medical equipment at Saemangeum 3rd Plant
POONGLIM Pharmatech, a local company in Gunsan, has built its third plant in Saemangeum Industrial Complex.
POONGLIM Pharmatech held a completion ceremony for its third plant today (7th) and started full-scale operation.
This is a report by reporter Yoon Hyun-suk.
POONGLIM Pharmatech, a medical device manufacturer known for its so-called squeezing syringe.
POONGLIM Pharmatech built 3 factories in Saemangeum Industrial Complex following Gunsan Free Trade Zone
The completion ceremony was held today (7th).
The 3rd plant was constructed at a cost of 17.8 billion won on 33,000㎡ of Saemangeum 1st district.
In addition to special syringes, injection needles, masks, and medical diagnostic kits are produced here.
In the case of special syringes, the main product of POONGLIM Pharmatech, a production facility with a scale that can make 20 million units per month has been prepared.
POONGLIM Pharmatech has decided to invest additionally in Saemangeum 1st tool, where 3 factories are located.
We decided to invest 19.5 billion won to build four factories with a size of 13,000 square meters by 2023.
Factory 4 will produce finished medicines and diagnostic medical devices.
POONGLIM Pharmatech is helping to revitalize the local economy by creating jobs with additional investments.
About 150 people were hired by the operation of the third plant, and 70 more people will be hired in the first half of 2024, when the fourth plant will be operated.
POONGLIM Pharmatech became a representative company in Gunsan last year with exports of $7 million to the U.S., Europe and Asia.
Additional investment by POONGLIM Pharmatech is expected to revitalize Gunsan's local economy.
I'm Yoon Hyun Suk from KCN.