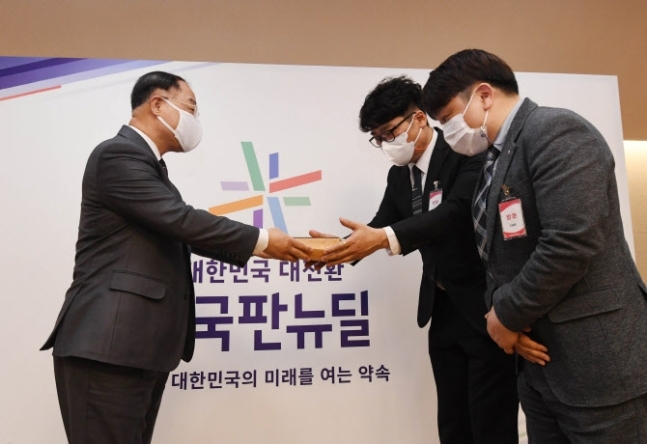 Poonglim Pharmatech's executives and staff, who made a miracle vaccine syringe that can inoculate 12 people with the Corona 19 vaccine administered to 10 people, became the first protagonist of the "Korean Version of the Month".
On the 30th, Deputy Prime Minister of Economic Affairs and Minister of Strategy and Finance Hong Nam-ki selected 10 employees, including Poonglim Pharmatech, Director Yoon Jong-deok, for this month's Korean version of the New Deal (group) and delivered a commemorative plaque with gratitude.
This month's Korean version of the New Deal will find and discover examples of innovation and challenge spirit that fit the purpose of the Korean version of the New Deal.
Poonglim Pharmatech's employees, including General Director Yun, started to develop a syringe with almost no vaccine left in the syringe based on their experience in localizing pre-filled pre-filled syringes.
The COVID-19 vaccine is limited to 5 vaccinations per vial (bottle). This is because it was impossible to inject any more even if the remaining amount remained with the existing syringe.
After research and development, unlike general syringes that can inoculate 5 times per bottle, the minimum residual type syringe has succeeded in injecting more than 6 times with little to no remaining amount. In fact, it had the effect of increasing the production of vaccines by an additional 20%.
As it was used in domestic vaccination sites, it received the attention of people all over the world, and was even nicknamed'K-syringe. Since last February, it has established a mass production system that produces more than 10 million units per month.
Kim Jong-jae, director of the Asan Life Science Research Institute, Asan Medical Center, Seoul, who participated in the development of'Doctor Answer', an artificial intelligence (AI) that quickly finds the cause of intractable diseases, was also selected as the'Korean Version of the Month'.
Dr.Anser is a medical system that enables disease prediction and diagnosis treatment tailored to individual characteristics for 8 diseases such as pediatric rare genetic diseases, cardiovascular disease, dementia, and major cancers.
The National Rehabilitation Center Smart Care Space, which empirically studies 4 types of caring robots in a space decorated like a general home, was selected as the'Korean version of this month's New Deal.
In the smart care space, we study an optimized spatial service model that allows the elderly or the handicapped with limited mobility to spend their daily lives without discomfort with the help of caring robots.
Deputy Prime Minister Hong Nam-ki said, "Bold innovation and challenges are the driving force behind the success of the Korean version of the New Deal to leap forward as a leading country."